The Construction Products Regulation (CPR) comes into effect across Europe on the 1st July 2013 and is directly applicable in its entirety in Irish law. In brief, the CPR aims to overcome the technical barriers to trade, which arise where different countries in Europe have different standards, testing and labelling approaches for the same construction products. Annex (iv) of the regulation refers to the product area governed by the new regulation and extends to fixed fire fighting equipment including (fire alarm/detection, fixed fire fighting fire and smoke control and explosion surpression product).
The CPR provides for four key instruments:
A system of harmonised technical specifications
An agreed system of conformity assessment for each product family
A framework of notified bodies i.e. designated bodies that carry out third-party tasks for the purpose of  CPR.
The mandatory CE marking of construction products.
At Fire Products Direct we are committed to best practice and would like to take this opportunity to reassure all our customers that we are working together with all our suppliers to verify compliance with the CPR where applicable.
We currently have a full range of CPR compliant products available under the FireClass and Ampac portfolio.
However, we wish to advise that the following fire alarm control panel products should not be used on NEW installations as and from 1st July 2013.
These products remain available as spare parts for existing systems as allowed under the CPR.
As and from 1st July, our CPR compliant products will contain the following information
The CE Mark
The Manufacturers Contact Details
The Certified Bodies issue Number
The European standard that it has been check against
The products designation (type of product)
The products performance criteria.
Figure 1.1 Sample CE Marking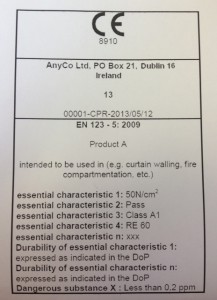 Please feel free to contact our customer support team if you have any queries in relation to the above.