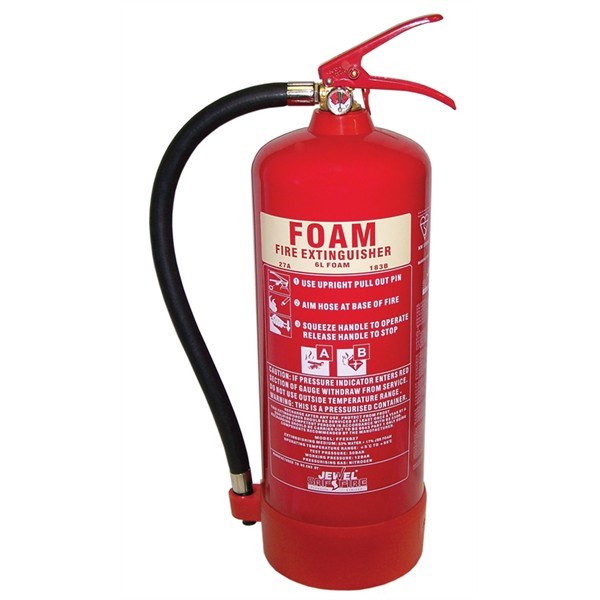 New Restrictions from the UN and the European Commission due to arrive in March 2023 means that all Foam (AFFF) Portable Fire Extinguishers will be restricted going forward.
Foam, often referred to as AFFF (Aqueous Film – Forming Foam) is used where water alone or inerting gases are unsuitable and has been favoured for uses with Class B Flammable liquids
Why restrict use?
PFOA (Perfluorooctanoic Acid) is part of a larger group of chemicals known as PFAS. These chemicals have many uses such as for stain and water – repellent coatings on fabrics and in fire fighting foam.
Most portable AFFF extinguishers contain less than 0.025mg/kg of PFOA. However, many PFAS including PFOA are now proven to have harmful impacts on the environment and human health.
What are we doing?
Sourcing Alternatives
In 2020 we launched the first of our Green Series Portable Fire Extinguisher which is a direct alternative for the 6ltr Foam 21A rated PFE when there is no class B risk. The Green Series 6ltr Water Spray with a 21A Rating contains water only with no additives so its contents are harmless to the environment. Our Green Series Water units have been designed for the Irish market and to compliment all the requirements contained within Irish Standard 291.
Training
We have completely phased out the use of AFFF in all training scenarios.
Specification
From January 2023, all newly advised/specified standard Fire Points will now be made up our Green Series Water & Co2 units with AFFF only used where a risk assessment dictates so.
AFFF will only be required where there may be a quantity of bunded flammable liquid tanks, and the foam would float on the surface to act as a blanket to prevent re – ignition. Generally, such premises would have a firewater retention tank that collects run – off and prevents it entering storm drains, watercourses, streams and rivers.
Support & Guidance
We are liaising with all our customers to keep them abreast of the new restrictions and changes. Our Support team are available to answer any queries or concerns you may have. Feel free to get in touch on 051 448389 or email info@fireproductsdirect.ie 
What do you need to do?
Consider replacing your AFFF Fire Extinguishers
If you currently have AFFF portable Fire Extinguishers on site, you should contact your existing maintenance provider to agree a plan for the replacement of these units.
From 2025 there will be a total prohibition on the purchase, training, testing and application of AFFF and any remaining inventory should be managed as waste.
Under no circumstances should extinguishers be discharged in order to dispose of their contents. Your provider will make arrangements for the disposal of this material in an environmentally sound manner.
2. If your total inventory of handheld AFFF Extinguishers exceeds 50 Kg you must notify the EPA.
Please see following for further information
The Changing Nature of Fire Fighting Foam – Understanding the Risk Posed by PFAS – Guidance Booklet